AAUW and AAUW PA Logo Merchandise Available
AAUW PA has collaborated with Lands' End to offer a storefront linked to the AAUW PA website. You can shop many of Lands' End regular products for men, women, home, office, and mo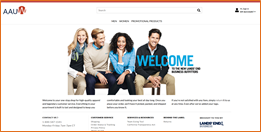 re. You can get the logo added for a small fee. Then they will ship it to you.
AAUW PA will not make any money from your purchases, nor will any money go to AAUW Funds. This is purely a service to our members.
In addition, Lands' End is giving each of us a discount on our first order—adding the logo for free and providing free shipping. To get this special deal, use this code: MTFLFS2.
Here's the link: https://business.landsend.com/store/aauw/
If you have any questions please contact  aauwpaaauwfunds@gmail.com.