2020 AAUW Pennsylvania
Webinar Series
Series of webinars presenting the content planned for the April 2020 in-person state convention.
Strengthening Public Education in the Times of COVID-19

On October 7th, Susan Spicka received our state Gateway to Equity Award and discussed the unique issues facing public education as a consequence of the COVID pandemic, updated efforts for charter reform, and explained the two research studies completed by Education Voters PA.  Zoom webinar — watch the recording
Resources and references in the presentation are:
AAUW Pennsylvania's K-12 public education strategic partners are Education Voters PA and PA Schools Work.  Sign up on their website to receive their advocacy information directly.  Or, like them on Facebook.
Education Voters PA research
Commonsense Cyber Charter School Funding Reform Will Eliminate Wasteful Spending and Save $290 Million in Taxpayer Money
Fixing the Flaws in Pennsylvania's Special Education Funding System for Charter Schools: How an Outdated Law Wastes Public Money, Encourages Gaming of the System, and Limits School Choice.
Voting in

Pennsylv

ania: 2020 and Beyond
Suzanne Almeida, Interim Executive Director, Common Cause Pennsylvania, shared updates on

all the voting topics relevant today — redistricting reform, mail-in voting, and the November 3rd general election.  Zoom webinar — watch the September 2, 2020 recording.
A Conversation with Frances Wolf, First Lady of Pennsylvania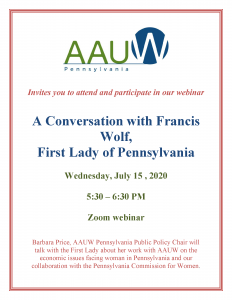 On July 15, 2020, Barbara Price, AAUW Pennsylvania Public Policy Chair will talk with the First Lady about her work with AAUW on the economic issues facing women in Pennsylvania and our collaboration with the Pennsylvania Commission for Women.
Zoom webinar — watch the recording
---
We Won't See You July 13-15 in Harrisburg
Update on the 2020 Pennsylvania State Convention
T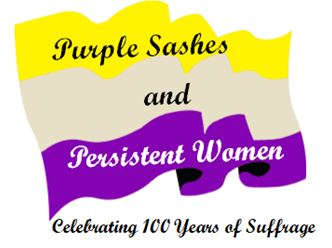 he AAUW Pennsylvania Board has been monitoring events and advisories related to the COVID-19 pandemic. As you know, our first action was to delay our 2020 Convention from April until July in the hopes that we could bring to fruition our plans for an amazing celebration of 100 years of women's suffrage.
After conversations among the Board, and with the Central Hotel and Conference Center in Harrisburg, we have come to the sad conclusion that we must cancel the face-to-face 2020 Convention in Harrisburg in order to ensure the health and safety of our members and attendees.
BUT, AS THEY SAY ON LATE-NIGHT TELEVISION, "BUT WAIT! THERE'S MORE!"
We are pursuing a number of options that could allow you to access some of the planned content from the 2020 Convention in other formats: webinars, recorded presentations, and/or interactive video-conferenced sessions, for example. As we said in our last message, We Are Persistent Women! And we are putting our collective energies together in search of creative ways to connect with AAUW members across Pennsylvania.
For now, here are some logistical details about the cancelation:
If your hotel reservation was made through the reserved block of rooms, your reservation has been canceled by the Hotel. If you made a reservation elsewhere or made a reservation outside the designated block of rooms, you'll need to cancel those arrangements yourself.
The Central Hotel has agreed to release us from our contractual obligations for the Convention, so you will be receiving a full refund of your 2020 Convention registration fee. You will be reimbursed using the same method with which you paid. If you sent a check, you will receive a check. If you paid through PayPal, you will receive a credit. Refunds will be processed in the next two weeks. Contact Mary Jo Buckwalter, Finance Officer, with questions at aauwpafinance@gmail.com.
We'd also like to ask that you consider converting your 2020 Convention registration fee to a (non-tax deductible) contribution to AAUW Pennsylvania. The coronavirus has further exposed existing gender inequities, and there is more important work to do on behalf of Pennsylvania women and girls. If you wish to help out in this way, please contact Mary Jo Buckwalter before Friday, May 8, 2020, when she will be sending out refunds.
Download the announcement here.
Bringing AAUW Work Smart workshops to Pennsylvania

In collaboration with the Pennsylvania Commission for Women, AAUW Pennsylvania is bringing AAUW Work Smart salary negotiation workshops to the working women of Pennsylvania.  Beginning September 24 through January 13th, two workshops will be presented in Harrisburg, York, and Wilkes-Barre/Scranton, and one in Pittsburgh and Philadelphia.  We are fortunate to have received positive publicity at several workshops.  This piece explaining the salary pay gap ran on WGAL on November 18.
The workshop is FREE.
For dates, venues, and to register, go to https://salary.aauw.org/.
For more information, see Governor Wolf's announcement.
Are you seeking a promotion?  Want a pay raise?  Looking for a new job?  Then you will benefit from this FREE workshop.
AAUW Work Smart is a successful salary negotiation workshop for working women in job transition and seeking promotions.  One ingredient of the gender pay gap is women often don't negotiate
their salaries.  We advocate on behalf of others with gusto, yet find it difficult to do the same for ourselves.  This workshop teaches the skills to identify an individual's unique skills, knowledge and experience; how to communicate these in an interview; how to value these in the salary discussion; and how to negotiate for a salary based on these unique attributes.
Unable to attend in person, this life-changing workshop is FREE and now ONLINE!  AAUW Work Smart Online can be accessed through any computer or mobile device and takes about 90 minutes complete, giving participants the tools and skills they need to successfully negotiate their salaries.
Changing the Climate for Women and Girls in Pennsylvania
And, here is how AAUW-PA …..
Interested in learning more about membership?