(Revisit past virtual events at https://aauw-pa.aauw.net/aauw-aauw-pa-webinars/ for summary and link to the recording.)
2024 AAUW PA Annual Conference

Evolution of the Fight:
Looking Back to Move Forward
FRIDAY April 5, SATURDAY April 6, & SUNDAY, April 7, 2024
Best Western Premier the Central Hotel & Conference Center
800 East Park Drive, Harrisburg, PA 17111
LODGING: Best Western Premier the Central Hotel & Conference Center
Mark your calendars and save the date . . . More information to come

---
AAUW ISSUES UPDATE
PENNSYLVANIA REPRODUCTIVE RIGHTS

We have heard from members that you are looking for greater understanding of the ramifications of the Dobbs v. Jackson Women's Health Supreme Court decision for Pennsylvanians, of what happens next and what we should be doing. The legal landscape is rapidly evolving and it is difficult to make sense of it.  Sue Frietsche and Sarah Horvath, distilled the complicated Pennsylvania landscape for us in a Zoom webinar on August 25th.  Read the summary and review the recording at https://aauw-pa.aauw.net/aauw-aauw-pa-webinars/.
AAUW Statement — WE WON'T BACK DOWN

Read the AAUW press statement from Gloria L. Blackwell, AAUW Chief Executive Officer.
Reproductive freedom has been an AAUW policy principle since 1977.  Learn more at Where We Stand:  Reproductive Rights.
In Pennsylvania, abortion is legal up to 24 weeks after a person's last menstrual period. A patient seeking an abortion must receive state-mandated counseling that includes information designed to discourage them from having an abortion, and then wait 24 hours before the procedure is provided.  Every year, this is under threat by the General Assembly (the Pennsylvania Representatives and Senators) in Harrisburg.  When voting in the November general election, know the candidate's position because the right to an abortion will definitely be an issue in the General Assembly beginning January 1, 2023.
In late night voting sessions on Thursday and Friday, July 7 and July 8, The Pennsylvania Senate and Representatives passed (SB106) which consolidates five distinct constitution amendments into one .  This is a Joint Resolution proposing amendments to the Constitution of Pennsylvania that will:
eliminate the right to abortion or funding for an abortion
establish new Voter ID requirements that would potentially disenfranchise tens of thousands of Pennsylvanians.
destroy the separation of powers and checks and balances by allowing the General Assembly to reject regulations made by the governor by a bare majority vote, rather than by a two-thirds vote as currently required by the Constitution, and by limiting the effect of executive orders and proclamations to 21 days without approval of the General Assembly. These provisions shift an enormous amount of power from the executive branch to the legislative branch in ways that directly and profoundly upset the design of the PA Constitution, which is based on the design of the U.S. Constitution.
require that the Auditor General conduct an audit of each election. This proposal not only perpetuates the "Big Lie" about the 2020 election but would create a division within the executive branch that could be exploited to overturn the will of the voters in future elections, including the presidential election in 2024.
If this amendment is approved next year by both the Senate and House of Representatives, with exactly the same language etc., it will go on the next ballot — either primary or general election.  This is why your vote matters on November 8, 2022.
We must be vigilant at both the state and national level.  On July 8th, the White House announced the signing of an executive order to protect reproductive rights. It is an important first step, but there is more work to be done. For example, you can:
Learn more about the status of abortion rights in your state with the Guttmacher Institute's 2022 policy analysis.
Take the opportunity to meet with your US Congress Representative on your home turf and hold in-district meetings to share your thoughts when Congress heads into recess in August.
Stay up to date on our coalition's activities at BansOffOurBodies.org.
Reduce the stigma about abortion and reproductive rights by talking openly about these issues and how they've affected your own life and livelihood, along with those of the people you love.
TITLE IX is 50!
No person in the United States shall, on the basis of sex, be excluded from participation in, be denied the benefits of, or be subjected to discrimination under any education program or activity receiving Federal financial assistance.
June 23, 202

2 marked 50 years since the passage of Title IX — thirty-seven words that impacted the lives of girls and women in education. While celebrating, let's take time to understand the legislation, AAUW's role in establishing and advocating, and the work still ahead.
K- 12 Public Education Funding Lawsuit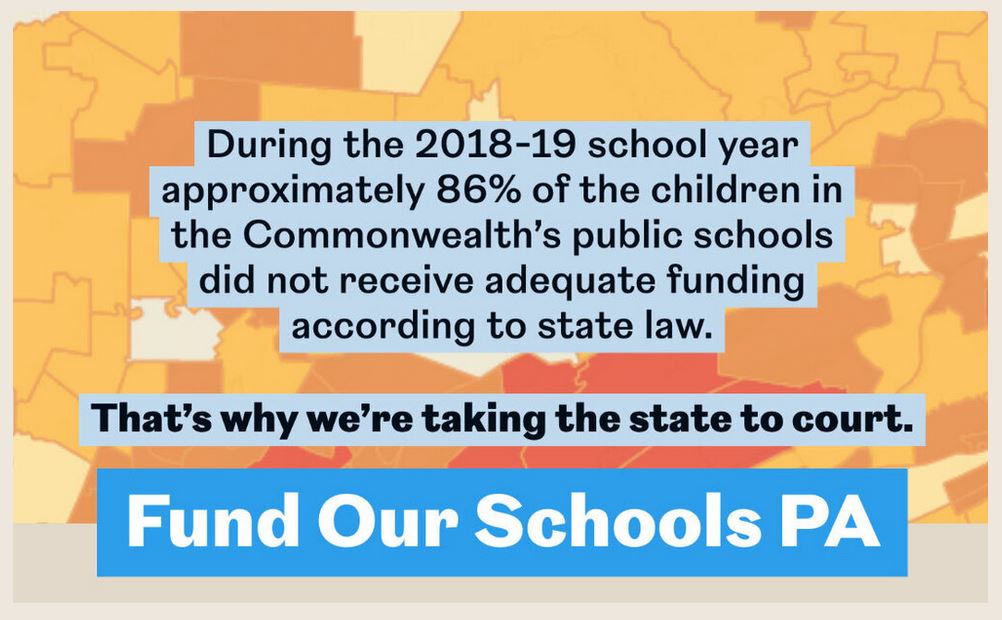 Every child in Pennsylvania has the right to a public education that prepares them for college and career.  But our legislative leaders in Harrisburg have created a school funding system where the students who need the most get the least, because of where they live.  It's wrong. It's unconstitutional.  And now, school districts and parents have taken the state to court.
The law suit was filed in 2014.  The in-person trial in Commonwealth Court started on November 12, 2021 and ended March 10, 2022 after fourteen weeks of opening arguments, witness testimony, thousands of pages of exhibits, and closing arguments.  Then briefs were written and submitted to the court presenting legal rationale.  July 26 was the last day of the trial –Judge Renée Cohn Jubelirer heard post-trial oral arguments and now must render her decision.
Learn about the issues and William Penn School District et al. v. Pennsylvania Department of Education et al lawsuit at Fund Our Schools or, for a more "legal" perspective, go to the attorneys site, Public Law Center.
AAUW Pennsylvania public policy priorities support a quality system of public education and advocates for (one of four points) fail and adequately funded system of public education.  Many AAUW Pennsylvania branches and members have attended rallies, wrote postcards, studied the issues, and followed this historic trial.
Petitioners (the school districts and parents) and Respondents (Legislators and Executive branch) returned to court on July 26, 2022 for the post-trial oral arguments.   During the post-trial oral arguments, we heard a day-long clash of opinions as to what kind of education students in Pennsylvania public schools have a right to receive under the Pennsylvania State Constitution.  An absolute must-read, is In Court, a Clash of Views on What Education System PA's Constitution Requires.
What kind of education do students in Pennsylvania public schools have a right to receive under the Pennsylvania State Constitution? Attorneys from both sides addressed this pivotal question during oral arguments.  Petitioners attorneys from the Public Interest Law Center believe they will prove, as they did at trial, that the Pennsylvania State Constitution demands high quality public education in every community, so that all students have the support they need to prepare for careers, further education, and civic participation. Our current two-tiered school funding system, divided by local wealth, fails to meet that standard.
Stay current and sign up for update at https://www.fundourschoolspa.org/.
Additional sources for information on this issue and trial are:
PA Schools Work
Public Interest Law Center
Education Voters PA
Level Up PA