Support your favorite AAUW programs with tax-deductible gifts to AAUW Funds. AAUW-PA urges you to donate to the Greatest Needs Fund (9110).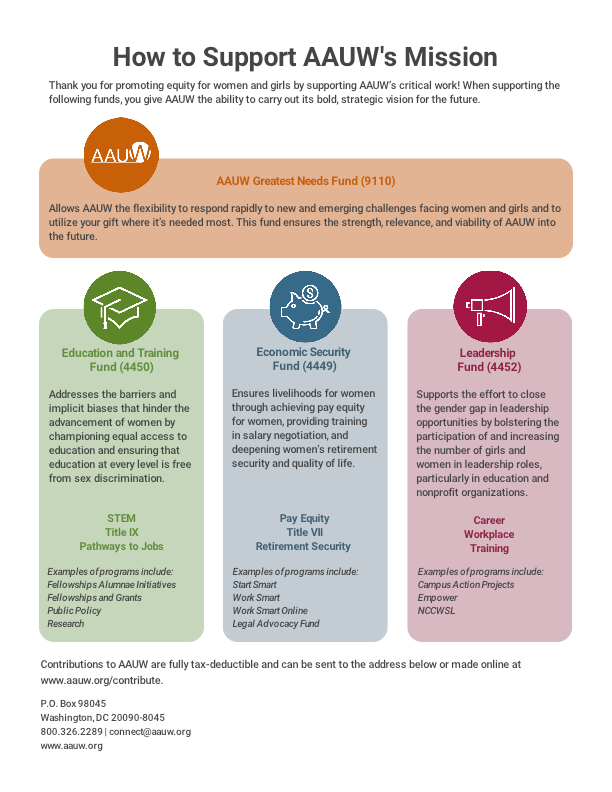 HOW TO MAKE DONATIONS: INDIVIDUALS
There are two options for submitting an individual donation:
OPTION 1: To donate online using your debit or credit card:
At the top right side of the home page, click on the large, red, DONATE button.
Select the fund to which you wish to donate.
Select either one-time or monthly.
Select or type in the amount of your donation.
Optional: Agree to cover the amount of the transaction fee ($2 at the time of this posting, summer 2020)
Optional: Type in your member ID.
Click the large, orange, DONATE NOW button.
OPTION 2: To donate by check:
Make your check payable to AAUW Funds.
Note the specific fund name or number in the memo section of your check.
Mail your check to:
AAUW
P.O. Box 98045
Washington, DC 20090-8045
HOW TO MAKE DONATIONS: BRANCHES
It's easy!
Remember that contributions must be submitted within 30 days of receipt.
OPTION 1:
Log into the Member Services Database (MSD) from the membership page on the AAUW National website: https://www.aauw.org/membership/
At the bottom of the page, click on STATE CONTRIBUTION REPORT Form (CRF) and follow the directions: "Click on Select a Donor" and choose your branch from the drop-down box. Then enter the amount of the donation for each relevant AAUW Fund and the "Total Contribution." If you wish to honor someone with this gift, fill out that section of the form.
Click on ADD GIFT at the end of the page.
From the next page, click on SUBMIT CRF.
Print and mail the CRF along with the payment to:
AAUW Development Department
P.O. Box 98045
Washington, DC 20090-8045
OPTION 2: Download the Contribution Report Form (CRF) here.
Follow the six easy steps on that page.
Send the completed form along with your payment to:
AAUW Development Department
P.O. Box 98045
Washington, DC 20090-8045
Make sure all enclosed checks are made out to AAUW Funds and have the intended Fund name and/or number on the memo line.