K – 12 Education Funding

Take Action to Support Public Education before June 30th

All you need is on this one page.  It is easy and very effective activity
for members

.

AAUW Public Policy Priority
AAUW believes that high-quality public education is the foundation of a democratic society and the key to economic prosperity and gender equality. We advocate equitable climates free of harassment, bullying, and sexual assault. We support academic freedom, civic education, protection from censorship, bias-free education, and responsible funding for all levels of education, including early childhood education and programs for students with disabilities.

To support a strong system of public education that promotes gender fairness, equity, and diversity, AAUW advocates
Adequate and equitable funding for quality public education for all students.
Issue Description — excerpts from PA Schools Work website
Growing up in the right zip code in Pennsylvania can change a student's entire educational experience.  With one of widest gaps between the highest and lowest spending school districts of any state in the country, our students and educators are experiencing inequity at outrageous and damaging levels. The disparity in spending is so wide that the most well-off districts spend about $114,000 more per classroom than those with the lowest spending districts.
Pennsylvania ranks 46th in the nation for its share of education funding. Almost dead last. That means 429 of its 500 school districts – serving 1.4 million students – do not receive their fair share of state education funding.  Students aren't the only ones paying the price of this underfunded system—local taxpayers are too! This year, 75% of local school districts intend to raise property taxes to fill the gap from a diminished state share.
Amazing educational opportunities exist in many public schools across Pennsylvania. They would be available to many more students if schools had enough resources.  In PA Schools Work, we celebrate the many successes achieved in public schools every day. They show that investing in schools will produce tremendous returns for our students and our communities. That's why we're working to make sure schools get the funding they need so all students have access to the same opportunities for excellence.
Pennsylvania schools work – for students, communities and the economy – when adequate resources are available to give all students an equal opportunity to succeed.
AAUW–PA supports PA Schools Work
PA Schools Work is a coalition of organizations from across Pennsylvania representing teachers and other educators; urban, suburban and rural communities; and parents and other community members working together to advocate for PA public schools, their students and the communities they serve.  Their mission is to ensure that every child, regardless of their background or where they live, is attending a public school that has the funds necessary to help them succeed.
PA Schools Work RESOURCES
PA Schools Work — Persons to Contact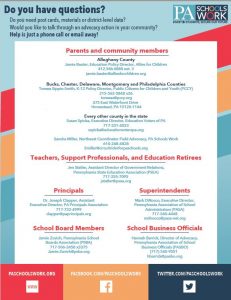 AAUW branches need to coordinate and inform the organizers about advocacy activities
We are not leaders in this effort and our work must support the work of PA Schools Work
One Pager (front and back)
Print in color (using AAUW Office Max/Depot discount; ship if no store near you)
Use to introduce PA Schools Work to branch members
Use when tabling as example of an AAUW issue we support
Use when meeting with elected officials
Advocacy Calendar (eight pages)
PA Schools Work suggested actions

Every month December 2018 through June 2019
In areas of Organizing and Mobilization; Legislative Relations/Advocacy; Training/Support
With budget calendar references for State Budget Timeline and School District Budget Timeline
Advocacy Calendar template — to plan local action
Every month December 2018 through June 2019
Organizing and Mobilization

Local Action Y/N
Who Will Lead/Act Locally
Resources/tasks needed to deliver on action item

Legislative Relations/Advocacy

Local Action Y/N
Who Will Lead/Act Locally
Resources/tasks needed to deliver on action item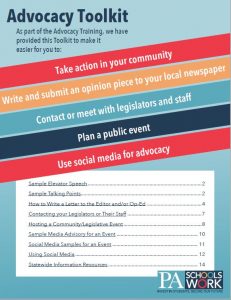 Advocacy Toolkit (15 pages)
Full of information on how to advocate
Nine recent fact based research reports on PA's woeful funding situation are at http://paschoolswork.org/research/.
An additional report just released January 10, 2019.
Skilled Workers Needed: Ensuring Investments in Career and Technical Education  Report and References.
TAKE ACTION as a Branch
Consistently and constantly include information in branch newsletter and at branch meetings through June 2019.

Distribute the PA Schools Work one-pager (see above)
You may find this Introduction to PA Schools Work, created by the AAUW Pennsylvania Education Committee, helpful.
State College newsletter article here.

Write at least one Letter to the Editor to local newspaper

Click here for LTE written by AAUW State College for Centre Daily Times

Conduct at least one meeting with your Pennsylvania House Representative

Do as AAUW so you can discuss all AAUW issues.  Include PA Schools Work as one of the issues presented.  Must develop an AAUW relationship with Pennsylvania Representative early in General Assembly so we can "trade" on it for our issues.

Share stories of budget impact.  Request for Stories — Time Sensitive
Reach out to local PA Schools Work people to get connected with local events/activities.

Participate in at least one.
TAKE ACTION as an Individual
Join PA Schools Work – so you receive information directly
Write/call your Representative in support of PA Schools Work agenda
Participate in branch activity/event