Governor Wolf signs Executive Order
On June 6, 2018, Pennsylvania Governor Tom Wolf took action on pay equity by signing an executive order that ends the practice of state agencies requiring a job applicant to provide their salary history during the hiring process.
Executive Order 2018-18-03 Equal Pay for Employees of the Commonwealth, applies to management-level positions and directs state agencies under the governor's juris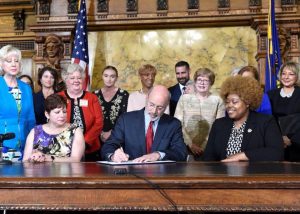 diction to:
No longer ask job applicants their salary history during the hiring process;
Base salaries on job responsibilities, position pay range, and the applicant's job knowledge and skills;
Clearly explain the pay range on job postings.
The governor also called on the General Assembly to pass similar protections for all working women in Pennsylvania.
AAUW Pennsylvania was honored to be included in the ceremony. Barbara Price, AAUW Public Policy Co-Chair, made moving remarks. Watch Barbara in this video, beginning just before the 20 minute mark. AAUW Pennsylvania was the only organization to speak. Several AAUW Pennsylvania members, instumental in the equal pay efforts over the past four years, attended this special event.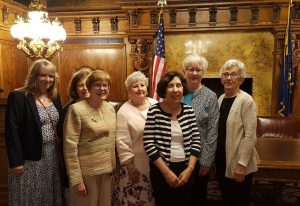 Reliance on salary history can contribute to and perpetuate the pay gap many women and people of color face in their careers. When employers ask job candidates about their previous wages and use that information to set pay in a new job, this seemingly innocuous practice can have major repercussions. Wolf joins the governors of New York and New Jersey and the mayor or New Orleans in taking executive action to ban reliance on salary history for state/city employees. A growing number of states and cities have also taken legislative action to end the practice.