2020 AAUW Pennsylvania Webinar Series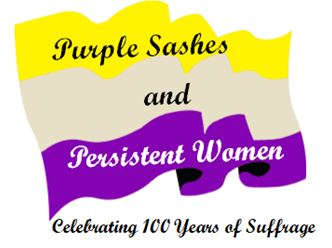 Series of webinars presented during the April 2020 state convention.
The Fight for Fair and Safe Campuses:
Title IX Past, Present, and Future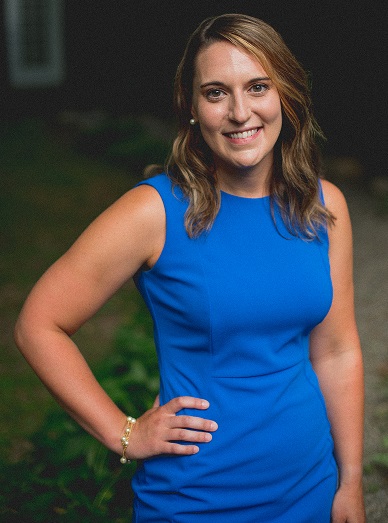 On March 18, 2021, we welcomed Tracey Vitchers, Executive Director of It's On Us, to discuss issues related to college campus safety for women including the DeVos legacy on Title IX and the efforts to return Title IX campus sexual assault protocols to protect the victim, not the assaulter.
It's On Us was founded in September 2014 as an initiative of the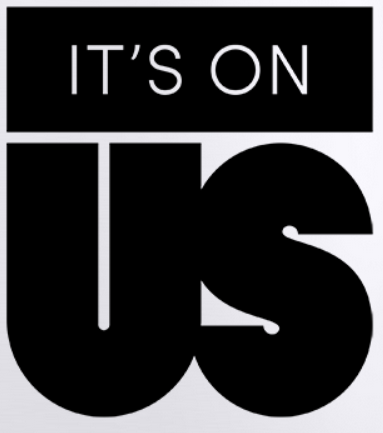 Obama-Biden White House. The program launched following recommendations from the White House Task Force to Prevent Sexual Assault that noted the importance of calling everyone into the conversation on sexual assault prevention. Over the last six years, It's On Us has grown into the nation's largest nonprofit program dedicated to college sexual assault prevention and survivor support activating students on hundreds of campuses in our awareness and education programs.
Resources mentioned in the webinar
Recording:  Oops — this webinar wasn't recorded.
Opening Remarks
Tracey Vitchers Introduction
Presentation
AAUW Policy
Quick Facts
AAUW Policy Recommendations
An Unreported Problem:  Campus Sexual Misconduct
AAUW Research
Crossing the Line:  Sexual Harassment at School
AAUW Legal Advocacy Fund
Legal Advocacy Fund
Know Your Rights:  Sexual Harassment and Assault on Campus
AAUW Advocacy – Take Action and Talking Points
Where We Stand: Sexual Harassment and Sexual Violence in School
Strengthening Public Education in the Times of COVID-19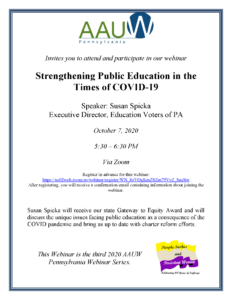 On October 7th, Susan Spicka received our state Gateway to Equity Award and discussed the unique issues facing public education as a consequence of the COVID pandemic, updated efforts for charter reform, and explained the two research studies completed by Education Voters PA. Zoom webinar — watch the recording.
Resources and references in the presentation are:
AAUW Pennsylvania's K-12 public education strategic partners are Education Voters PA and PA Schools Work. Sign up on their website to receive their advocacy information directly. Or, like them on Facebook.
Education Voters PA research
Commonsense Cyber Charter School Funding Reform Will Eliminate Wasteful Spending and Save $290 Million in Taxpayer Money
Fixing the Flaws in Pennsylvania's Special Education Funding System for Charter Schools: How an Outdated Law Wastes Public Money, Encourages Gaming of the System, and Limits School Choice.
Voting 2020: The Good – The Bad -The Ugly
The Distri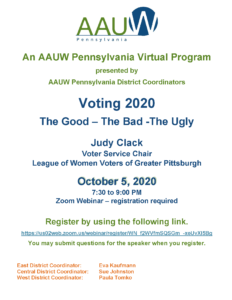 ct Coordinators organized a state-wide district meeting, featuring Judy Clack, Voter Services Chair of League of Women Voters of Greater Pittsburgh. On October 5th, the issues and questions about voting in the upcoming November 3rd general election were numerous. Judy provided up to the minute information. Watch the recording.
Votin

g in Pennsylv

ania: 2020 and Beyond
Suzanne Almeida, Interim Executive Director, Common Cause Pennsylvania, shared updates on

all the voting topics relevant today — redistricting reform, mail-in voting, and the November 3rd general election. Zoom webinar — watch the September 2, 2020 recording.
A Conversation with Frances Wolf, First Lady of Pennsylvania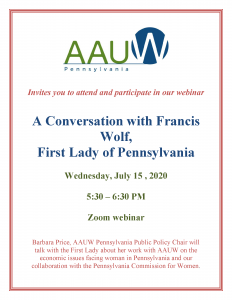 On July 15, 2020, Barbara Price, AAUW Pennsylvania Public Policy Chair will talk with the First Lady about her work with AAUW on the economic issues facing women in Pennsylvania and our collaboration with the Pennsylvania Commission for Women.
Zoom webinar — watch the recording.
---