Beginning in 2019, AAUW Pennsylvania holds a State Convention in even years.  In those years, the Annual Meeting will be held at the State Convention and the Annual Meeting Yearbook will be published.  In odd years, the Annual Meeting will be held during the April Board meeting and content (most, but not all) will be included in the June Keystoner.
2020 State Convention and Annual Meeting
State Convention
Originally scheduled for April 24-26, 2020.
Postponed to July 13-15, 2020.
Canceled — read the announcement here
Annual Meeting
Originally scheduled during the State Convention.  Held virtually on Saturday, June 27, 2020. Here is a recap.
Annual Yearbook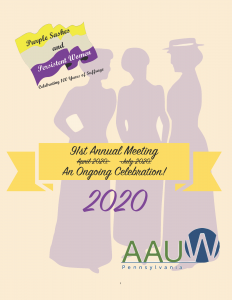 Never mind the 2020 AAUW Pennsylvania state convention was canceled. There is a Yearbook! While not printed, it is available here to view on your device or print.
Past State Conventions and Annual Meetings
2019    Annual Meeting, April 6 at Red Lion Hotel Harrisburg Hershey
2018    Champion,  Seven Springs Mountain Resort
Recap
Annual Officer Reports
Amendment Proposals
2018 Election
2017    York, Heritage Hills Golf Resort
2016    Tannersville, Chateau Resort & Conference Center
2015    State College, Ramada Conference and Golf Hotel
2014    Gettysburg, Wyndham Gettysburg
2013    State College, Toftrees Golf Resort
2012    Pittsburgh, Double Tree by Hilton
2011    State College, Days Inn Penn State
2010    Carlisle, Hotel Carlisle (The Embers)
2009    Lewisburg, Country Cupboard ***
2008    Exton, Inn at Chester Springs
2007    Scranton, The Hilton-Scranton
2006    Johnstown, Downtown Holiday Inn
2005   Grantville, Holiday Inn
2004   Valley Forge, Radisson Hotel
2003   State College, Penn Stater
2002   Pittsburgh, Sheraton North
2001   York, Heritage Hills
2000   Allentown, Hilton
1999   Erie, Bel-Aire Hotel
1998   The Penn Stater
1997   The Penn State Scanticon Conference Center
1996   Valley Forge, Sheraton
1995   Harrisburg, Hilton
1994   Pittsburgh, Greentree Marriott
1993   Reading, Sheraton Berkshire
1992   State College, Days Inn
1991   Champion, Seven Springs
1990   Tamiment, Poconos
1989   Slippery Rock University
1988   York College, York
1987   Allentown, Muhlenberg College
1986   University Park, Penn State
1985   Lycoming College, Williamsport
1984   Chatham College, Pittsburgh
1983   Rosemont College, Philadelphia
1982   Lock Haven State College
1981   Behrend PSU Campus, Erie
1980   Bloomsburg State College
1979   Lafayette College, Easton
1978   Lancaster
1977   Altoona Campus, Penn State
1976   Valley Forge
1975   Monroeville
1974   Allentown
1973   Williamsport
1972   Villa Marie College, Erie
1971   Harrisburg
1970   Pittsburgh
1969   Reading
1968   State College
1967   Bethlehem
1966   Gettysburg
1965   Johnstown
1964   Beaver College, Philadelphia
1963   Altoona
1962   Allentown
1961   Hershey
1960   Philadelphia
1959   Pittsburgh
1958   Williamsport
1957   Wilkes-Barre
1956   State College
1955   Harrisburg
1954   Bryn Mawr College, Philadelphis
1953   Pittsburgh
1952   Bethlehem
1951   Atlantic City **
1950   Hazelton
1949   Easton
1948   Erie
1947   Altoona
1946   State College
1945   Harrisburg
1944   Reading
1943   Harrisburg
1942   Chambersburg
1941   Wilkes-Barre
1940   Pittsburgh
1939   Bethlehem
1936   Harrisburg *
1934   State College *
1932   Wilmington *
1930   Wilkes-Barre *
1929   Pittsburgh *
1926   Philadelphia *
1924   Philadelphia *
* Pennsylvania – Delaware Division
** Preceding Association Convention
*** Annual Meeting