94th AAUW Pennsylvania Annual Meeting
May 9, 2023 via Zoom
Minutes (to be approved at the 2023 Annual Meeting)
Below are the documents for attendees of the 94th Annual Meeting.
Agenda
Rules of Order
93rd Annual Meeting Minutes
2022-2024 AAUW Pennsylvania Public Policy Priorities
2023-2024 AAUW PA Strategic Plan
2023 Yearbook
Download the 2023 yearbook here.
Discover the highlights of fiscal year 2022-2023.

President letter
Branch and membership data
Branch awards
Members awarded Outstanding Woman, Member Making a Difference, Named Gift Honoree.
AAUW Pennsylvania Gateway to Equity award recipient
Branch Gateway to Equity award recipients
Public Policy Priorities 2022-2024
AAUW PA Strategic Plan 2023-2024
AAUW Pennsylvania financials and historic data
Minutes of the 93rd Annual Meeting held virtually on April 23, 2022
AAUW PA Student Organizations, College and University Members
AAUW Pennsylvania Bylaws Amendment Proposals  
2022 Convention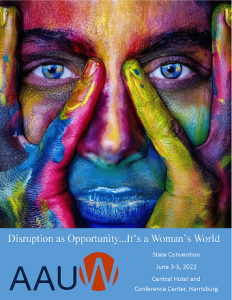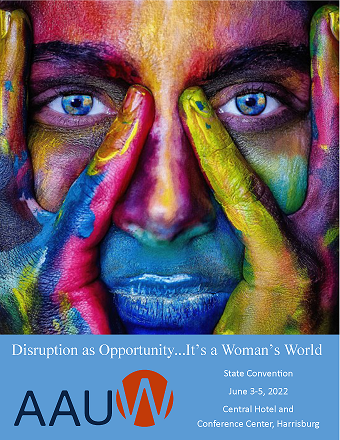 Disruption as Opportunity… It's a Woman's World
June 3-5, 2022                 
Central Hotel & Conference Center, Harrisburg
This broad theme gives us the opportunity to explore all the opportunities for women as we emerge from the pandemic.  We don't want to "get back to normal" because normal wasn't the best for women and girls.  The pandemic was a disruptor.   We hope to explore what good will emerge from the disruption and how can we leverage change to improve issues impacting women and girls.
Visit the 2022 convention page for highlights, presentations, speaker bios, etc.