Nominations and Elections Committee Report
April 2018 Candidates for Election at Annual Business Meeting
Dot McLane, AAUW-PA Nominations Chair
AAUW-PA President
Ann Pehle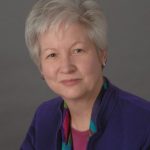 Ann has been a member of the Carlisle branch since May 2015. She is currently the President of the Carlisle branch and prior to that served as the Public Policy Chair (2016-2017) and Public Policy Co-Chair (2015-2016). She is also a current AAUW-PA Public Policy Co-Chair. Ann earned a BA in Communication Arts from the University of Wisconsin and an MBA from Northwestern University Kellogg School of Management.
Prior to her retirement in 2011, Ann spent over 30 years as a Human Resources executive from Fortune 125 companies to family-owned businesses. Her areas of success include aligning succession planning, performance management, and career development processes with business strategies and cultures; implementing and administering talent management software; leading global, enterprise-wide projects; and establishing and cultivating strong business relationships.
Ann believes the primary focus of AAUW starts with its Mission and Programs. "AAUW's Mission and longevity sets us apart from other organizations in our communities and on the state level, providing a unique membership opportunity for persons interested in empowering women as individuals and as a community."
"I see two focus areas for AAUW-PA.  First, is to represent, support, and implement the AAUW Mission in Pennsylvania.  We do this by understanding the Programs and finding opportunities to embody them in Pennsylvania, in part, through statewide coalitions, our Public Policy efforts, and promoting AAUW on college campuses.  The second focus of AAUW-PA is to assist branches to fulfill the AAUW mission.  This is accomplished through state meetings, facilitating sharing and learning between Branches, and providing guidance to Branches."
AAUW-PA Program Vice President
Lee Wolfe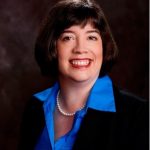 Lee has been a member of the Lansdale branch since 2002. She has served numerous roles in the branch including Co-President, Program Vice President/Co-Vice President for 4 years and Co-Chair of the STEM program Discover Your Future for 8 years. Lee is a professional structural engineer and in that role is also Program Co-Chair and Professional Development Chair for the Women's Transportation Seminar professional society.
Lee earned her BA in Architecture and BS in Civil Engineering from Lehigh University and a MS in Civil Engineering from the Stevens Institute of Technology. Lee is a licensed engineer in PA and NJ and currently works at TranSystems in Philadelphia as a Project Manager responsible for bridge design and structural engineering.
Lee believes her primary focus as State Program Vice-President "would be in expanding and broadening the reach of our Brand through our Programs by ensuring that they are intriguing, timely and engaging to our current and perspective members." Lee plans to "work to make AAUW-PA even better recognized as a provider of networking and knowledge-sharing programs." "I have learned that a member gains so much more from the organization when they come in from the sidelines, roll up their sleeves, and sincerely get involved. If a member is engaged, they will be inspired to participate further and hopefully, remain and become a valued Life Member."
---
AAUW-PA 2018 Election Voting Instructions
Dot McLane, AAUW-PA Nominations Chair
If you are coming to the Seven Spring Annual Meeting, you will vote there. Otherwise vote via either of the options below.
OPTION 1: ONLINE VOTING:
Instructions: Click on the link https://www.surveymonkey.com/r/2018AAUWElection or paste into your browser. Online voting is available now through midnight, April 6, 2018. Clicking this link will bring up an initial screen that will include instructions and three boxes asking for voting confirmation information: 1) first name; 2) last name; and 3) branch. This information will not be connected to your vote. Voter names and branch affiliation are required only to verify that you are 1) a current paid AAUW-PA member and 2) that you are not voting multiple times.
Clicking the "next" box on screen one will bring up the actual ballot. It looks exactly like the paper ballot that includes the titles of each office— President and Program Vice President, the two candidates' names; and an option for a write-in.
Branches may facilitate online voting at a branch meeting. It requires only a computer, a site with internet access, and a degree of voting privacy.
OPTION 2: PAPER BALLOT VOTING:
INSTRUCTIONS: Clip out and return the official ballot provided in the Keystoner or download one below – return it to your branch president or to the Nominations Chair by mail. To be valid and counted, mailed ballots must be received no later than Friday, April 6, 2018, by Dot McLane at the address below. Voting instructions must be completed exactly as required in order for your ballot to be valid. Please ask for clarification from your branch officers or from AAUW-PA officers before voting if you have any questions or concerns about the appropriate way to file your ballot.
Read the information about the nominees and make your choice for each office. Mark an "X" in the blank provided on the ballot.
In the box on the end of the ballot, PRINT legibly your name as it appears in AAUW membership records and branch affiliation (if you are not a member of any particular branch, PRINT "National Member" or other appropriate affiliation).
SIGN the ballot where indicated in the box.
FOLD your ballot on the dotted line so that the box with your information is folded away from your casted votes. Once your membership has been validated, the information in the box will be cut off from your casted votes and your votes will then be counted.
FILE your ballot either by returning it to your branch president to bulk mail or to bring to Convention in person for you, or by mailing it yourself.
If mailing your ballot, yourself, please send it to: Dot McLane, AAUW-PA Nominations Chair, 103 Green Spring Circle, Lansdale, PA 19446.