2021-2022 Student Mini-Impact Grant Fund
Congratulations to the two recipients. The Period Project – Menstruation Equality at Moravian University and the Sister-to-Sister Summit at Juniata College.
Period Projects – Menstruation Equality
Megan Curtis, (she/her/hers), Economics Major, Theory Track at Moravian University ('24), and AAUW Student Group Treasurer and MAC Representative, requested fund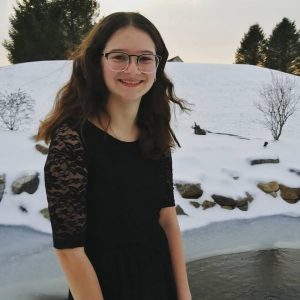 s to continue the Period Project ($250).  Weekly baskets are restocked with menstruation products in 15 bathrooms across campus. The goal is to also expand the reach of the program and increase the number of bathrooms. The grant will provide funds to offer free period products to assist in creating menstruation equality.
Megan stated, "With the funding from this grant, we will be able to purchase approximately 1,500 menstrual products (pads and tampons). This provides great support to students across campus who may not have adequate access to menstrual products or simply forgot to carry a tampon or pad with them." The grant report, stated that this past semester, they noticed that some baskets in heavily used restrooms ran out within a day or two. We are in the process of designing and printing signs to encourage students to only take one product at a time and point them to other resources on campus where they can find a more permanent access to these products.
This project is the result of collaboration efforts between Moravian AAUW Student Group, Spectrum – LGBTQ+ Organization, USG – Moravian United Student Government and AAUW Bethlehem Branch.
Sister-to-Sister Summit
Julia Wedeking, (she/her/hers) Social Work POE Major at Juniata College ('24), AAUW at JC and Fatou Barrow, International Business Major at Juniata College ('22) applied for a grant to assist in funding the annual Sister-to-Sister Summit ($400) held at Juniata College. A grant report was completed by Julia Wedeking and Emma Hernandez, President, AAUW at JC. The one-day event was planned over three months. Volunteers completed their clearances and attended orientation.  All of the participants signed a waiver that allowed for event pictures to be taken. With the help of the grant, they were able to invite three middle schools and had 30 girls/feminine-aligned identities students attend who had a chance to discuss topics of their choosing related to problems that they were facing in organized dialogue activities. Participants held conversations on topics such as, but not limited to, identities, relationships, how social issues affect academics, future goals, family, self-care, and more.
Julia & Emma said, "This immersive bonding experience resulted in the empowerment and validation of these young women. Their reactions at the end of the day and their visible excitement demonstrated that something had been achieved. Many of the participants and their counselors approached the volunteers and officers to show gratitude for the experience." The report stated, the experience as a whole could not have been possible without the generous grant that they received.
It is hosted by the AAUW at Juniata Student Organization, in collaboration with the Social Work Service Club, Community Engagement Office, Women in Physics, Instructors of the Future, PLEXUS, JC Menstrual Movement and the AAUW Huntingdon Branch.
National Conference for College Women Student Leaders NCCWSL
AAUW Pennsylvania Grant Recipients May 24, 25, and May 26, 2022 fully virtual We are pleased to announce the PA grant recipients for 2022 NCCWSL. This annual conference focuses on building leadership skills and career development for college women. AAUW Pennsylvania awarded two undergraduate grants. We appreciate donations to fund grants from the Carlisle Branch and the York Branch. Funds remaining from these donations will be carried forward to assist funding grants for 2023.

Post Survey Responses from Sofia Perrone:
Were there any parts of the conference that you found especially useful? The ability to network and meet female leaders.
I would love to go to the conference again, and look forward to recommending it to the fellow members of Dickinson AAUW
"I am incredibly grateful for the opportunity AAUW-PA afforded me when providing a grant to attend NCCWSL. I have never felt so supported and empowered, and look forward to further developing the relationships I made with fellow student-leaders." I would love to go to the conference again, and look forward to recommending it to the fellow members of Dickinson AAUW – Sofia, German and Anthropology