2020 State Convention and Annual Meeting
State Convention
Originally scheduled for April 24-26, 2020.
Postponed to July 13-15, 2020.
Canceled — read the announcement here
Many of the featured speakers scheduled for the 2020 convention agreed to make a Zoom presentation.  Go here to see that wonderful content.
Annual Meeting
Originally scheduled during the State Convention.  Held virtually on Saturday, June 27, 2020. Here is a recap.
Annual Yearbook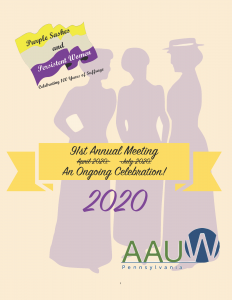 Never mind the 2020 AAUW Pennsylvania state convention was canceled. There is a Yearbook! While not printed, it is available here to view on your device or print.