Recap
AAUW-PA State Convention and 89th Annual Meeting
April 13-15, 2018
Seven Springs Resort
When Women Get Involved …… the Conversation Changes
The AAUW-PA annual meeting, held at Seven Springs Resort in Champion, PA on April 13–15, was attended by 111 members, speakers and student affiliates. Twenty-three of Pennsylvania's 36 branches were represented. Our Friday evening keynote speaker, Kimberley Churches, AAUW CEO, focused on, "Changing the Conversation and Moving Forward," as she presented the recently revised Strategic Plan and requested input from ALL members.
Saturday's schedule was very robust. Six Branches presented Concurrent Sessions on various current topics. President Dot McLane conducted a Business Meeting followed by the Honorable Marjorie J. Fox, Greene County District Attorney for the past 17 years, who shared her experiences as she addressed "Women in Local Politics."
Our luncheon speakers included Dr. Marta McClintock and her student team from California University of Pennsylvania who shared their campus action project, "Closing the Gender Wage Gap." A college Student Advisory Council (SAC) panel of four students shared their thoughts on "Diversity, Inclusion and Intersectional Feminism on Campus," an on-going discussion from the previous convention.
An optional meeting to address National AAUW topics including the dues increase and the Bylaws amendments was offered to members prior to dinner while college students engaged in a private session to examine "Career Development."
Indiana Branch members, Dr. Susan Wheatley and Patti Holmes, entertained members with blues and easy listening music prior to the awards ceremony. Senior staff attorney Susan Frietsche from the Women's Law Project updated attendees on "Women's Issues and Outcomes."
On Sunday morning Ann Pehle, Public Policy co-chair and incoming State President, spoke on the topic, "Gerrymandering: Taking Away Our Voice." Dot McLane, outgoing State President installed the newly elected State officers. Ann Pehle, Carlisle Branch, will assume the office of the Presidency and Lee Wolfe from the Lansdale Branch will serve as Program Vice-President.
District meeting were held and Branch officers met with their counterparts prior to adjourning.
Activities designed to benefit AAUW Funds included silent auction bidding on 11 baskets donated by individuals and branches along with mailboxes strategically placed for member donations. Basket bids totaled $715 and mailbox donations were $1054 .
Special thanks go to Program Committee members Sandy M. Homel (Program VP), Rosemary Baker, Patricia Byerly, Dot McLane, Linda Robbins, Connie Schroeder, Linda Tozier, and Barbara Zaborowski (Conference Coordinator).
NOTE: PowerPoint presentations from the meeting are posted on the state website and the Yearbook will be posted shortly.
State Bylaw Proposals and 2018-2020 Public Policy Priorities
During the business meeting the proposed bylaw changes and public policy priorities as outlined in the February Keystoner were approved without revision. The new bylaws and public policy principles are posted on the state website.
Annual Meeting Speakers
Keynote Speaker – Kim Churches, AAUW CEO
Kimberly Churches is the chief executive officer of the American Association of University Women (AAUW). Prior to joining AAUW in June 2017 Kimberly served as the managing director of the Brookings Institution, an internationally recognized public policy think tank. In that capacity she strategically guided Brookings, providing vision and problem-solving skills while focusing on expansive partnerships, external relations, and advancement.
Kimberly has also served as an associate vice chancellor at the University of Denver, a director of development at the University of North Florida, and a division director at the American Heart Association. She has extensive experience working collaboratively on education (K–12 and higher education) as well as on capacity building among grassroots groups and national and international nonprofits.
Kim will share her vision, present problem-solving skills, capacity building with grass roots groups, and address constructive partnerships that create a welcoming climate. She will also answer any member's questions about the national strategic plan and the future direction of AAUW.
District Attorney Marjorie Fox, Women in Local Politics
District Attorney Marjorie Fox first joined the office of the District Attorney of Greene County as an Assistant District Attorney in 1989, primarily to assist in child abuse and sexual assault cases as well as to represent the Commonwealth in criminal appeals. She was later promoted to First Assistant District Attorney and remained in this capacity until she became District Attorney in 2001.
District Attorney Fox graduated with a degree in Public Service from the Pennsylvania State University in 1977. She worked as an assistant in the Criminal Investigation Division of the Internal Revenue Service prior to attending the University of Pittsburgh School of Law. Following her 1981 graduation, she engaged in the general practice of law in Allegheny and Greene Counties before joining the District Attorney's Office.
Women's Law Project, Susan Freitsche
Our Saturday dinner speaker, Susan Frietsche, is a Senior Staff Attorney at the Women's Law Project. She will discuss their work in the state advocating as a leading organization in the Pennsylvania Campaign for Women's Health. WLP is a state-based group dedicated to the fight for issues that affect women's legal status, health, and economic security by working through high-impact litigation, policy advocacy, and community education.
---
Closing the Gender Wage Gap, California University of PA Campus Action Project
Students and their Director, Dr. Marta McClintock, will discuss how they used their funds to highlight local women who overcome the obstacles they faced and have broken gender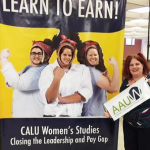 barriers.
State Student Advisory Council Presentation:
Intersectional Feminism
A discussion on intersectional feminism: ways in which oppressive institutions (racism, sexism, homophobia, transphobia, etc.) are interconnected, and activism on college campuses. The members of the 2017-18 AAUW-PA Student Advisory Council will present this session. Those members are: Bria Bowman is a senior at West Chester University majoring in International Business Management; Natalia Hazelwood is a senior majoring in International Relations with the Penn State University World Campus,; Shaina Hilsey is a senior at California University of Pennsylvania majoring in Sport Management with a concentration in Professional Golf Management and a minor in Business Administration; and Sofino Odero is a senior majoring in African Studies and minoring in Health Studies at Dickinson College.
Moderator: Holle Canatella, AAUW-PA C/U Liaison and Lock Haven University.
Workshop Sessions
Small Branches: Big Ideas
Susan Wheatley, Indiana County Branch
Learn about a theme-based annual program that appeals to a multi-faceted audience, to advance health care for women and their families.
Tears We Cannot Stop
Toni Hoffman, Easton/Bethlehem Branch
A panel discussion on the book Tears We Cannot Stop will lead to ideas for social justice actions.
Hate Crimes and Hate Prevention
Stacey Zaremba and Shelley Speirs, Bethlehem Branch
Learn how hate crimes can be explored through an annual program, and how to adapt this programming format for use in your branch.
STEM Programs, Step by Step
Deanna Haddle, Johnstown Branch and Michele Crowl, State College Branch
Learn how to organize and host STEM events and programs of all sizes, while building partnerships.
Build Global Citizens: Great Decisions Program Fosters Local Discussions
Ellen McDevitt, Norths Hills Pittsburgh Branch
Learn to use "Great Decisions", the world's largest discussion program on foreign affairs, to foster conversations about international issues.
Reaching Out: Student Loan Solutions for College Students
Jennifer Schultz, West Chester-Chester County Branch
Learn how to educate college students about their future financial health through student loan solutions while introducing them to AAUW.