April 10, 2018 — Equal Pay Day
Lobby Day and Rally at Pennsylvania State Capitol
Members and supporters gathered for a briefing before lobbying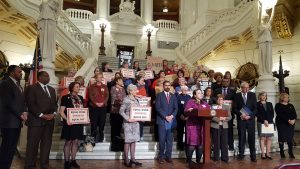 Representatives. Important to get familiar with the materials and messaging for the day. And to catch up with friends from across the state.
Then we dispersed for the appointments made with our Representative and/or their staff. We briefed them on AAUW's research The Simple Truth and the wage gap by Pennsylvania Congressional District: 2017 Pay Gap and 2016 Pay Gap. We discussed the benefits of HB1243.
Everyone gathered in the capitol rotunda for a 2:00 pm rally spon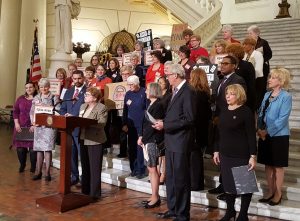 sored by AAUW Pennsylvania, BPW Pennsylvania, and the Pennsylvania Commission on Women. Speakers spoke about the impact the gender pay gap has on Pennsylvania's families and economy and will also highlight practical actions Pennsylvania legislators can take in order to achieve pay equity for all Pennsylvanians.
Speakers included:
Terry Fromson, Managing Attorney, Women's Law Project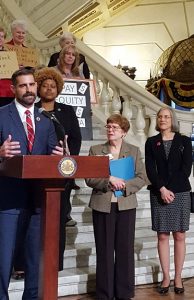 State Rep. Maria Donatucci, (D-Philadelphia)
Suzanne Almeida, Executive Director, League of Women Voters of Pennsylvania
State Rep. Donna Bullock (D-Philadelphia)
Marilyn Tallant, President, BPW/PA
State Rep. Madeline Dean (D-Montgomery)
State Rep. Dan Frankel (D-Pittsburgh)
State Rep. Tina Davis (D-Bucks)
Barbara Price, Public Policy Co-Chair, AAUW-PA,
Melissa Robbins, Philadelphia NOW
State Rep. Brian Sims (D-Philadelphia)